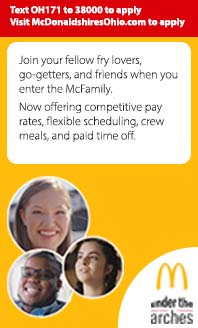 Side Menu Begins
Side Menu Ends, main content for this page begins
The Louisa Wright Board Room
The Board of Education Room, located in the district's Central Office at 160 Miller Road, has been named the Louisa Jurey Wright Board Room. Mrs. Wright was an education trailblazer. She was the first, and only, female superintendent in the history of Lebanon City Schools. Previously one of our elementary schools was named after Mrs. Wright; the building has since been demolished.
In 1849, Mrs. Wright attended the South-Western Normal School, later called National Normal University. It was founded only six years earlier by Alfred Holbrook. In 1865, she was hired to teach in Lebanon. Beside her classroom duties, she was chosen to be the assistant to Lebanon School Superintendent Charles W. Kimball.
It was at this same time the Lebanon school board became concerned that the district had no 'regular course of study' for the 'advanced department' for primary and higher grades. As The Western Star, Lebanon's weekly newspaper, reported at the time, "Mrs. Wright was chosen by the Board to prepare a course of study for every department. The system prepared by her was afterward adopted, with some modifications."
During the 1867-68 school year, Mrs. Wright was serving as high school principal and was elevated to the role of Superintendent when Mr. Kimball fell ill. However, while she was fulfilling the duties of the Superintendent, she was not referred to as 'Superintendent.' In a September 5, 1867 issue of The Western Star, it was reported "although the office of Superintendent has been abolished, Mrs. Louisa Wright, principal of the high school, has general supervision over all departments."
In 1868, under Mrs. Wright's guidance, Lebanon High School graduated its first three students, all female: Ida Hardy, Ada Wood, and Minnie Van Harlingen.
As a teacher, and later as a patron of education, Mrs. Wright's voice always favored thoughtfulness in those branches of study she considered the formation of education.
She is pictured with her husband and two sons in this photograph from 1890: