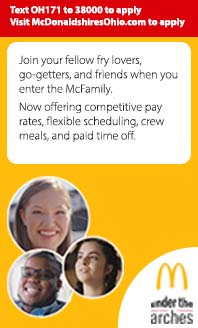 Side Menu Begins
Side Menu Ends, main content for this page begins
Board Members
Ryan Patterson, Jr. - President
Email: Patterson.Ryan@lebanonschools.org
Mr. Patterson moved to Lebanon, OH in 1993 from his home town of Dayton, OH. Ryan and his wife Karen have two children; Lauren and Adam. Both children attended/attending Lebanon City Schools (Lauren graduated in 2018 and Adam will graduate in 2021). Both Ryan and Karen are active with various volunteer duties within the schools and the community. Ryan is also a member of St. Francis De Sales Church, the Knights of Columbus, the Lebanon YMCA and a member/pilot at the Warren County Airport.
Mr. Patterson's term expires December 31, 2021.
Kim Cope - Vice President
Email: Cope.Kimberly@lebanonschools.org
Kimberly and her husband, Michael, have lived in the Lebanon area for over 20 years and have four children. Three of their children, Zachary, Ashley, and Austin, are graduates of Lebanon High School and one of their children, Morgan, currently attends Lebanon High School.
Kimberly received her Bachelor of Arts degree from Grove City College in Elementary Education and her Master of Science degree in Early Childhood Education from The University of Dayton. She holds an Ohio Department of Education Professional License for K-8. Kimberly is a former adjunct professor at Sinclair Community College and taught at Lebanon Christian School for 9 years. She is currently the Director of The Academy Preschool.
Mrs. Cope's term expires December 31, 2023.
David Donovan - Board Member
Email: Donovan.David@lebanonschools.org
Mr. Donovan grew up in Lebanon and graduated from LHS in 1968. His father served
as band director from 1952 to 1976, as well as 16 years on the Board of Education. His mother taught elementary music from 1962 until 1988.
He received bachelor's degrees from Ohio State University and did his graduate studies
at Wright State University, His teaching career began at Switzerland County Schools in Indiana
and moved on to Lebanon City Schools, totaling a 37 year career. He taught band, choral and
general music. In 2012 he was inducted into the LCS Hall of Fame.
Since his retirement in 2011 he remains an active adjudicator with the OMEA, certified in
choral, orchestral, voice and piano. His leadership of the Lebanon Symphony Orchestra and
Chorus, which he founded in 1991, continues to this day.
Mr. Donovan lives in Lebanon with his wife Carola. He has two sons - Grahm and
Broderick Donovan, two step children - Jennifer and Austin Poe, and three grandchildren -
Adrien, Siena and Wrangler.
Mr. Donovan's term expires on December 31, 2021
Michael Lane - Board Member
Email: Lane.Michael@lebanonschools.org
Michael Lane is serving his first term with the LCS Board of Education.
Mike and his wife, Amy, have lived in the district for over 12 years and have two children attending Lebanon City Schools: Alexa and Logan. He was born and raised in Warren County, attending Mason High School, before going to Miami University. There Mike graduated with a Bachelor of Science in Secondary Education and returned to Mason High School where he taught and coached for 6 years before deciding to transition to the private sector. Mike has been in the mortgage industry for over 22 years and is currently leading the mortgage department at Peoples Bank. In addition to working at the bank, Mike is a local business owner of Whit's Frozen Custard.
Mr. Lane's term expires December 31, 2023.
Esther Banta Larson - Board Member
Email: Larson.Esther@lebanonschools.org
Esther Banta Larson is in her fourth term as a board member. She is a retired teacher of 37 years of which 32 were in the Lebanon City Schools district. She also managed their family pool maintenance business for 15 years. She was inducted into the Lebanon School's Hall of Fame as were both of her parents, Harold and Elizabeth Banta. She and her husband, James, and 2 children are all Lebanon graduates. Of their five grandchildren, 3 are Lebanon grads and the other 2 are attending now. They have 2 great-grandsons who are also in the Lebanon school district.
Mrs. Larson's term expires December 31, 2023