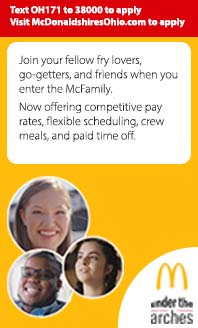 Side Menu Begins
Side Menu Ends, main content for this page begins
Employment
Lebanon City Schools Substitute Teacher Employment
Lebanon's substitute staff is hired through the Southwest Ohio Council of Governments (COG) and will have access to surrounding school districts in Warren and Butler Counties.
In order to work as a substitute teacher at Lebanon, you must be hired through the COG. Information about substitute teaching can be found on the Southwest Ohio Council of Governments website website.
Do you seek excellence in yourself and others?
Then we hope that you will consider Lebanon City Schools for your employment!
Lebanon City Schools is located in Lebanon, Ohio halfway between Dayton and Cincinnati. Lebanon is known for its perfect blend of small town charm with easy access to urban amenities. The five schools in Lebanon house over 5600 students and growing.
The district is known for its excellent academic rating and working hard to meet the individual needs of its students. Professional development and a stream-lined curriculum have been integral in achieving this academic success.
Lebanon City Schools currently has grade level schools. Bowman Primary School houses our youngest students and is the place where our pre-school students, kindergarten, first and second graders learn to read and write. Donovan Elementary School staff help our third and fourth graders grow as independent learners. Berry Intermediate School provides a historical setting for the fifth and sixth grade students. Lebanon Junior High School and Lebanon High School are where our seventh through twelfth grade students finish up their schooling.
Lebanon City School District offers a competitive salary along with a strong mentor program to provide our newest teaching staff with what they need for a successful beginning to their teaching career!
Relocation
If you're looking for a friendly community that has worked hard to preserve its past, while also making great strides to become a benchmark for technology and community development, then Lebanon welcomes you.
Lebanon is widely becoming known as a tourist attraction with its many points of interest. The Warren County Historical Museum is recognized as one of the nation's most outstanding county museums. The Glendower State Memorial, built between 1836 and 1840, provides a classic example of residential Greek Revival. Lebanon is also home to the Turtle Creek Valley Railway. Shopping has even become an art in Lebanon, boasting over 80 specialty shops offering one of a kind antiques, furniture, fine art, jewelry, collectables, distinctive clothing, book stores, coffee shops and much more.
The City of Lebanon is strategically located midway between the Cincinnati and Dayton metropolitan areas in a picturesque environment framed by gently rolling hills and the Scenic Little Miami River. Two major interstate highways are readily accessible including I – 75 and I – 71. The community is also served by county and state highways including Routes 48 and 42 running north and south, and Routes 63 and 123 running east and west. Check out the chamber of commerce website to learn more about Lebanon.
The Cincinnati and Dayton areas have a variety of attractions, entertainment and cultural events for the entire family. Attractions include Paramount's Kings Island, the world famous Cincinnati Zoo, the Newport Aquamarine across the Ohio River in Kentucky, the Museum Center at Union Terminal. If you like sports, Cincinnati has a variety of professional sports teams like the Cincinnati Reds baseball team and the Cincinnati Bengals football team. Dayton has the Dayton Dragons minor league baseball team. Excellent shopping, including countless malls and specialty stores and factory outlets, are only minutes away. Numerous cultural organizations like the Cincinnati Symphony Orchestra, the Cincinnati Ballet, the Cincinnati Pops, Cincinnati Playhouse in the Park, the Schuster Performing Arts Center, and the Dayton Art Institute to name just a few. Cincinnati offers special events like Oktoberfest and Tall Stacks on the Ohio River. Dayton offers The US Air Force Museum, The Wright Cycle Shop, Carillon Historical Park and much more. Recreational activities abound with activities on the Ohio River, nearby lakes and outstanding golf courses and more than 5000 acres of parks in the Cincinnati and Dayton area alone.
Compensation
Anthem Transparency In Coverage Website
Click here to access the Anthem Transparency in Coverage website.