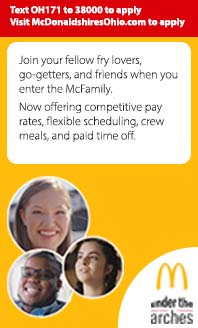 Side Menu Begins
Side Menu Ends, main content for this page begins
Working in Lebanon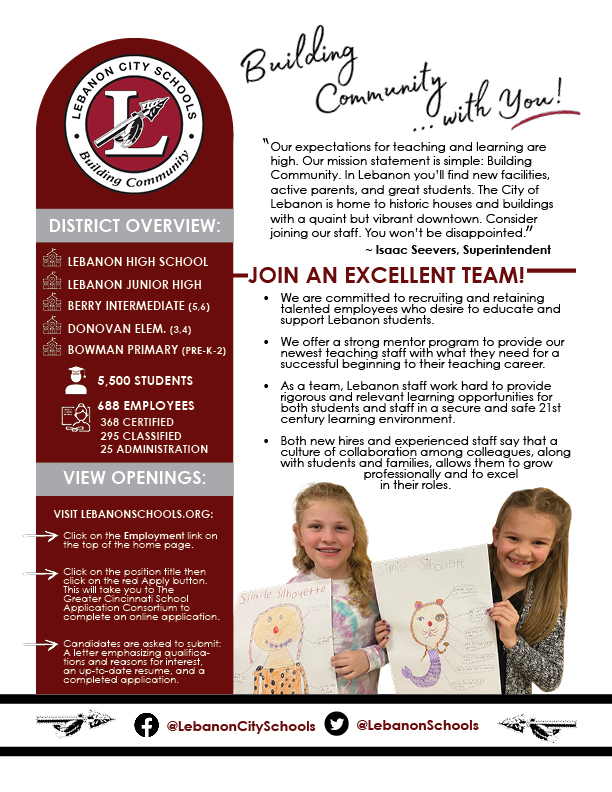 Our Community
Rooted in one of the oldest cities in the state, our school district lies 30 miles north of Cincinnati and 30 miles south of Dayton in the heart of fast-growing Warren County. The district is committed to embracing educational advancements that assure quality learning for all of our 5,500 students while maintaining a small-town feel and values-oriented atmosphere. The result is a stimulating and supportive learning environment that consistently encourages creativity, communication, collaboration, and critical thinking among all of our students.
Lebanon is widely becoming known as a tourist attraction with its many points of interest. The Warren County Historical Museum is recognized as one of the nation's most outstanding county museums. The Glendower State Memorial, built between 1836 and 1840, provides a classic example of residential Greek Revival. Lebanon is also home to the Turtle Creek Valley Railway. Shopping has even become an art in Lebanon, boasting over 80 specialty shops offering one of a kind antiques, furniture, fine art, jewelry, collectables, distinctive clothing, book stores, coffee shops and much more.
The City of Lebanon is in a picturesque environment framed by gently rolling hills and the Scenic Little Miami River. Two major interstate highways are readily accessible including I – 75 and I – 71. The community is also served by county and state highways including Routes 48 and 42 running north and south, and Routes 63 and 123 running east and west. Check out the Chamber of Commerce website to learn more about Lebanon.
The Cincinnati and Dayton areas have a variety of attractions, entertainment and cultural events for the entire family. Attractions include Paramount's Kings Island, the world famous Cincinnati Zoo, the Newport Aquamarine across the Ohio River in Kentucky, the Museum Center at Union Terminal. If you like sports, Cincinnati has a variety of professional sports teams like the Cincinnati Reds baseball team and the Cincinnati Bengals football team. Dayton has the Dayton Dragons minor league baseball team. Excellent shopping, including countless malls and specialty stores and factory outlets, are only minutes away. Numerous cultural organizations like the Cincinnati Symphony Orchestra, the Cincinnati Ballet, the Cincinnati Pops, Cincinnati Playhouse in the Park, the Schuster Performing Arts Center, and the Dayton Art Institute to name just a few. Cincinnati offers special events like Oktoberfest and Tall Stacks on the Ohio River. Dayton offers The US Air Force Museum, The Wright Cycle Shop, Carillon Historical Park and much more. Recreational activities abound with activities on the Ohio River, nearby lakes and outstanding golf courses and more than 5000 acres of parks in the Cincinnati and Dayton area alone.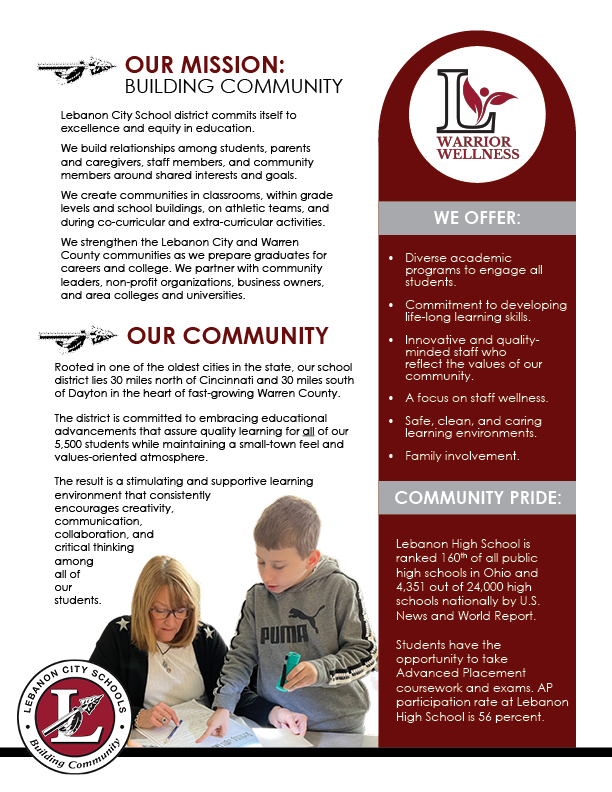 Our Schools
Lebanon City Schools currently has grade level schools. Bowman Primary School houses our youngest students and is the place where our pre-school students, kindergarten, first and second graders learn to read and write. Donovan Elementary School staff help our third and fourth graders grow as independent learners. Berry Intermediate School provides a historical setting for the fifth and sixth grade students. Lebanon Junior High School and Lebanon High School are where our seventh through twelfth grade students finish up their schooling.
We Offer
• Diverse academic programs to engage all students.
• Commitment to developing life-long learning skills.
• Innovative and quality minded staff who reflect the values of our community.
• A focus on staff wellness.
• Safe, clean, and caring learning environments.
• Family involvement.
Anthem Transparency In Coverage Website
Click here to access the Anthem Transparency in Coverage website.