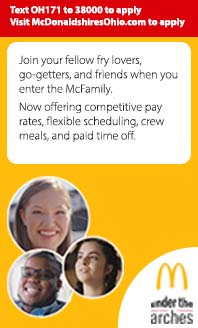 Side Menu Begins
Side Menu Ends, main content for this page begins
Cincinnati Children's Hospital
Lebanon's partnership with Cincinnati Children's will give students greater access to mental health services. The school-based mental health services program is an integral component of all aspects of our schools, with an emphasis on supporting students' social-emotional wellness. Parents, teachers and school counselors can make student referrals for service.
Please contact your child's school counselor to discuss available resources, referral services or for questions regarding services.
Lisa Miller EdD, LPCC
Lisa Miller is a school-based counselor from CCHMC at Lebanon High School. She earned her BA in Psychology from Hanover, College, and her EdD in Counselor Education from The University of Cincinnati. She has worked serving children, adolescents, and their families for over 27 years. Her prior work experiences include school-based counseling, private practice, short term residential, community mental health, and Head Start. In her current role, she works with students, parents, guidance, nursing and the administration to provide mental health treatment to students at Lebanon High School.
Rachel Bayer
Mrs. Rachel Bayer will be entering her 3rd school year as the mental health therapist for Lebanon Junior High School. Mrs. Bayer is a mental health therapist with Cincinnati Children's Hospital who is independently licensed with the State of Ohio Counselor, Social Worker, and Marriage and Family Therapist Board. She has been in practice for 18 years and has experience working with children and families in a variety of settings, including inpatient, outpatient, and intensive home-based settings. Mrs. Bayer earned her Master's Degree in Social Work with a concentration in specialized mental health through the University of Cincinnati. Mrs. Bayer has three daughters, ages 19, 15 and 11 and thoroughly enjoys working with children. Mrs. Bayer believes the emotional wellbeing of children is just as important as their physical health. "I believe good mental health allows children and young people to develop the resilience to cope with whatever life throws at them and grow into well-rounded, healthy adults."
Alesha Ingram LISW-S
Alesha Ingram is a Licensed Independent Social Worker (LISW-S) who works at Berry Intermediate School. She graduated from the University of Tennessee in 2006 with a master's degree in Social Work. She has over ten years of experience working in schools, healthcare, and community-based settings. Alesha believes that meeting students and families where they are at, is the best place to start treatment. She utilizes cognitive-behavioral therapy (CBT), cognitive processing therapy, expressive art techniques, solution-focused, and mindfulness techniques in an effort to assist students with achieving their individualized treatment goals.
Andrea Powers LISW-S, ACSW, BCD
Andrea Powers has been a practicing social worker/therapist for 33 years. She has been at Cincinnati Children's Hospital for 25 years. She received her Bachelor's degree from Rhode Island College and her Master's degree from Boston College. She provides counseling to children, adolescents, and adults.
Heather Huber LISW
Heather Huber is a Licensed Independent Social Worker Supervisor with a Master's degree from Portland State University and over 20 years of comprehensive clinical experience working with children, families, and adults. As a mental therapist, she is able to integrate her knowledge of education and mental health issues to help families problem-solve, overcome personal issues, and work toward positive home and school experiences.
Brittany Cooper
Brittany Cooper is a mental health therapist with Cincinnati Children's Hospital who is independently licensed with the State of Ohio Counselor, Social Worker, and Marriage and Family Therapist Board and with the State of Florida as a Licensed Mental Health Clinician. She has recently moved from Florida, where she worked with children, adolescents, and adults in in-home, residential, outpatient settings. She has 4 children ages 10, 9, 4, and 1 and enjoys spending time with her family in the outdoors; camping, kayaking, and hiking. She is invested in helping clients reach their full potential by allowing them to build on their strengths and work through stressors and frustration in a safe and productive way to build coping skills to take them into and through adulthood.