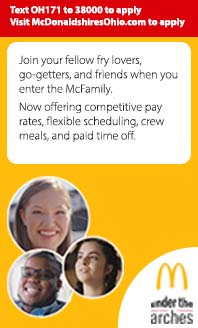 Side Menu Ends, main content for this page begins
Back to Side Menu (includes search)
Celebrate Black History Month with a Good Book
Posted on: February 13, 2023
Celebrate Black History Month with a good book! Lebanon Junior High School's Media Specialist, Jennifer Ensman, has compiled a list for all grade levels full of great stories, non-fiction texts, poetry, and picture books - check it out!
These texts could be checked out from the school or local library, purchased online, or at a local or chain book store:
Picture books appropriate for Bowman-aged students (grades preschool through second):
Hidden Figures: The True Story of Four Black Women and the Space Race by Margot Lee Shetterly

Martin's Big Words: The Life of Dr. Martin Luther King, Jr. by Doreer Rappaport

Pies from Nowhere: How Georgie Gilmore Sustained the Montgomery Bus Boycott by Dee Romito

Langston's Train Ride by Robert Burleigh

Trombone Shorty by Troy Andrews

Born on the Water by Nikole Hannah-Jones and Renee Watson

The 5 O-Clock Band by Troy Andrews

Sisters & Champions: The True Story of Venus and Serena Williams by Howard Bryant

Whoosh! Lonnie Johnson's Super-Soaking Stream of Inventions by Chris Barton

R-E-S-P-E-C-T: Aretha Franklin, the Queen of Soul by Carole Boston Weatherford
Non-fiction texts appropriate for students in Donovan, Berry, and the Junior High (grades third through seventh):
The Who Is/Who Was non-fiction series is popular with students. Most of these titles can be found on this website or on this website.
Who were the Tuskegee Airmen?

What is the Civil Rights Movement?

Who is Michael Jordan?

Who is Michelle Obama?

Who are Venus and Serena Williams?

Who was Coretta Scott King?

Who was George Washington Carver?

Who was Booker T. Washington?

Who is Neil deGrasse Tyson?

Who was Ida B. Wells?

Who was Jackie Robinson?

Who was Kobe Bryant?

Who was Louis Armstrong?

Who was Martin Luther King, Jr.?

Who was Maya Angelou?

Who is Barack Obama?

Who is Lebron James?

Who is Oprah Winfrey?

Who is Shaquille O'Neal?

Who is Stevie Wonder?

Who was Bob Marley?

Who was Duke Ellington?

Who was Frederick Douglass?

Who was Harriet Beecher Stowe?

Who was Harriet Tubman?

Who was Jesse Owens?

Who was Muhammad Ali?

Who was Rosa Parks?

Who was Sojourner Truth?

Non-fiction texts, stories, and novels appropriate for students

in fifth grade and up

:
Little Leaders: Bold Women in Black History by Vashti Harrison

History Smashers: The Underground Railroad by Kate Messner

Hand in Hand: Ten Black Men Who Changed America by Andrea Davis Pinkney

From the Desk of Zoe Washington by Janae Marks

Becoming Muhammad Ali by James Patterson

Lifting as We Climb: Black Women's Battle for the Ballot Box by Evette Dionne

The Watsons Go to Birmingham, 1963 by Christopher Paul Curtis

The Door of No Return by Kwame Alexander

New Kid by Jerry Craft

Class Act by Jerry Craft

Ghost Boys by Jewell Parker Rhodes

The Season of Styx Malone by Kekla Magoon

Genesis Begins Again by Alicia D. Williams

Midnight Without a Moon by Linda Williams Jackson

What Lane by Torrey Maldonado

Harbor Me by Jacqueline Woodson
Non-fiction texts, stories, and novels appropriate

for grades seven and up

:
Chasing Space by Leland Melvin

The Port Chicago 50: Disaster, Mutiny, and the Fight for Civil Rights by Steve Sheinkin

Hidden Figures by Margot Lee Shetterly

Black Brother, Black Brother by Jewell Parker Rhodes

And We Rise: The Civil Rights Movement in Poems by Erica Martin

Getting Away with Murder: The True Story of the Emmett Till Case by Chris Crowe

Loving vs. Virginia: A Documentary Novel of the Landmark Civil Rights Case by Patricia Hruby Powell

All-American Boys by Jason Reynolds

Overground Railroad: The Green Book and the Roots of Black Travel in America by Candacy Taylor
Non-fiction texts, stories and novels appropriate

for young adults in grades nine and up:
The Hate U Give by Angie Thomas

On the Come Up by Angie Thomas

Concrete Rose by Angie Thomas

Dear Martin by Nic Stone

Dear Justyce by Nic Stone

Punching the Air by Ibi Zoboi

When I Was the Greatest by Jason Reynolds