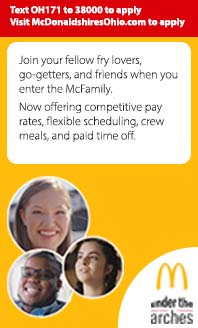 Side Menu Ends, main content for this page begins
Back to Side Menu (includes search)
Warrior Welcome to New Staff
Posted on: August 23, 2023
Join us as we give a warm Warrior Welcome to the following staff members who have been hired for the new school year! We have hired more than two dozen qualified teachers for the new year and many other staff to fill other important roles.
Scroll to the bottom to see photos of our new staff ...
Jordan Abrams, Intervention Specialist, Bowman Primary
Jordan Abrams joined the staff at Bowman Primary as an Intervention Specialist. Previously, he was a general education teacher for four years. He taught kindergarten at Summit Academy Elementary and second grade at Winton Woods City Schools. He switched over to teaching special education and was an intervention specialist in a social/emotional autism unit at Marr Cook Elementary. He also worked in a special education unit at Pleasant Run Elementary School.
He's from the Cincinnati area and grew up in Montgomery. He graduated from Sycamore High School and Ohio University. He lives in Loveland. His mom is a retired special education teacher and his dad is a retired veterinarian. He loves playing basketball, watching the Bengals, attending concerts, and rapping. Fun fact: he was a rap performer in college and he has released many songs for the previous schools he's worked for.
"Growing up, I did not have the best outlook on school and education," Mr. Abrams said. "It took a very special junior high teacher to change my mindset, work on gaining more confidence, and being positive. In my role as an intervention specialist, I want to help build students up and learn to love learning."
Emily Bosdell, Intervention Specialist, new to Lebanon Junior High
Emily Bosdell has been teaching in Lebanon for 10 years. This is her 20th year teaching. She moved here from Virginia with her family in 2012. She received her license from Christopher Newport University. She has taught at Berry and Donovan and started the new school year at Lebanon Junior High School. Emily and her husband are parents in the district. They have three children: Madelyn, Lucas, and Rebecca. Madelyn graduated this past year and is attending East Tennessee State. Lucas is a 7th grader at LJHS. He is playing football this fall. Rebecca is in 6th grade at Berry. She is playing volleyball. You will see Mrs. Bosdell around town cheering on the Warriors.
Kelli Chandler, Counselor, Bowman Primary
Kelli Chandler has been hired as a counselor at Bowman Primary School. This is her first year working as a school counselor, however she has prior experience working at Cline Elementary in Centerville City Schools for a year and a half. She graduated from Centerville High School and earned a bachelor's degree in psychology and a masters in school counseling from Wright State University. She lives in Kettering and has a cat named Ivy. She enjoys reading and taking care of her plants. "I have always been very passionate about mental health and education," she said. "Being a school counselor allows me to do both of my passions on a daily basis. My goal is to create a safe and inclusive space that provides equitable opportunities and resources for students to push beyond barriers they may face."
Michelle Crockett, band and music teacher, new to Lebanon Junior and High School
Michelle Crockett taught third and fourth grade music at Donovan Elementary for the last eight years; this school year she will be teaching band and music at Lebanon Junior and High Schools. Prior to teaching at Donovan, she worked as a Band Director for grades 5-12 in Washington Court House and out of state in Tennessee and Alabama. She received her Bachelor's Degree in Music Education from Miami University; a Master's Degree in Educational Leadership from Tennessee Technological University; and an Intervention Specialist license from Notre Dame College.
She lives in Lebanon with her husband and three children, a dog and two barn cats. She loves being with family and friends, reading, attending musicals, performing in a community band, golfing, playing volleyball and pickleball, and watching their kids participate in music activities and sports.
"I am really excited to be working with my former elementary students as they have now reached junior high and high school age and have chosen musical instruments to play," Mrs. Crockett said. "I love being a part of something, like band, that teaches so many life skills. Playing an instrument is an activity that you can enjoy your whole life and as a bonus - you can use these skills to serve the community in so many wonderful ways."
Grant Gardner, Teacher, Lebanon High School
Once a Warrior, always a Warrior! Grant Gardner is a 2019 graduate of Lebanon High School. He attended the University of Cincinnati, receiving an Associate Degree in Pre-Secondary Education as well as a Bachelor's Degree in Education. While attending college he was a student-teacher at Colerain and Princeton High Schools. Outside of the classroom, he coaches boys basketball. He will be entering his second season as the assistant varsity coach and the freshman head coach at Franklin High School.
Maggie Harter, Intervention Specialist, Berry Intermediate
Maggie Harter has been hired as an Intervention Specialist at Berry Intermediate. She graduated from the University of Cincinnati with a Degree in Special Education. She previously served as an aide at Indian Hill High School. She is originally from Columbus but has fallen in love with the Cincinnati area; she lives in Madeira. In her free time she likes to paint, go on walks, and play pickleball. "I am so excited to be working at Lebanon Schools," Ms. Harter said. "This is such a great, supportive place to start my teaching career."
Jen Hines, Teacher, Bowman Primary School
Jen Hines has nine years of teaching experience. She joins Bowman Primary's staff this year as a second grade teacher. Mrs. Hines served as a long term substitute teacher in the building last year. She lives in Waynesville with her husband and three daughters, Paige, Alexis, and Megan. Their family spends most evenings and weekends on the soccer field or at gymnastics.
Lilian Hlavaty, teacher, Lebanon High School
Lilian Hlavaty has been hired as a teacher at Lebanon High School. She attended Ohio State University, where she majored in Secondary (ELA) Education and minored in Human Development and Family Sciences. She completed her student teaching at Metro Early College High School in Columbus. She graduated in the spring; this is her first year teaching.
"One of the things that drew me to Lebanon is how unified the schools are with the community," she said. "It's very apparent that every staff member genuinely cares about the wellbeing and the growth of each student that attends Lebanon City Schools. It's a great feeling to be able to say that I am now a part of that unified community and I am proud to be a Warrior!"
She spends her free time reading, catching up on her latest TV obsession, and hanging out with family.
Brandon Huddleson, Teacher, Berry Intermediate
Brandon Huddleson is a proud Lebanon Alumni - he is working at Berry Intermediate as a sixth grade teacher this year. He graduated from Ohio University, studying Middle Childhood Education. Prior to this year he was a substitute teacher at Berry and at Lebanon Junior High.
Jenna Jarvis, Intervention Specialist, Donovan Elementary
Jenna Jarvis has been hired as an Intervention Specialist at Donovan Elementary. She graduated from Ohio University with a Bachelors in Science of Education. While attending college, she interned at Athens County Board of Developmental Disabilities and at Trimble Elementary. She also served as a long-term substitute teacher for second and third grade at St. Lawrence Elementary. She is from Oxford but recently moved to Lebanon.
"Special education is my passion," she said. "I strive to create relationships with all of my students, advocate for them, and make an impact in all of their lives."
Emily Jefferson, Teacher, new to Donovan Elementary
Most of Emily Jefferson's 25-year career in education has been spent at Berry Intermediate as a sixth grade teacher. She is teaching fourth grade at Donovan this year. She is a graduate of Milford High School and earned Degrees in Education from The Ohio State University and Northern Kentucky University. She lives on the edge of Lebanon with her husband, daughter, and dog.
Nicole King, Teacher, Bowman Primary School
Nicole King graduated from Malone University with a Bachelor's Degree in Education. She served as a building substitute at Bowman in the spring. "This is my first year of teaching and I am excited to learn and grow as an educator," she said.
Jillian Laman, Counselor, Berry Intermediate
Jillian Laman has been hired as a counselor at Berry Intermediate, serving our Warriors in fifth and sixth grade. Ms. Laman previously worked in healthcare for 13 years, as an athletic trainer/physical therapy assistant and DME coordinator. She received a Masters in School Counseling degree from Lakeland University in Sheboygan, Wisconsin. She lives in the Kings District with her husband and two daughters.
Ms. Laman says, "I'm really excited to educate students in how to regulate their emotions and advocate for themselves so they can excel in and out of the classroom. I want to be able to create a safe space where they can feel seen and heard."
Quinn Little, Speech Language Pathologist, Donovan Elementary
Quinn Little has worked as a speech language pathologist for the last five years at the elementary and junior high levels. She is working at Donovan Elementary this year. She earned both a Bachelor and Master Degree from Calvin University. She lives in Lebanon with her husband, Isaac, and dog, Oakley. She enjoys reading, running, and spending time with friends and family.
Brenden Malloy, Teacher, Lebanon High School
Brenden Malloy has been hired as a science teacher at Lebanon High School. He is a graduate of Mason High School and attended Ohio University, where he received a bachelors degree in Adolescent Young Adult integrated science education. In my free time I enjoy fishing and anything outdoors. This is his first teaching position.
Cathleen McLaughlin, Intervention Specialist, Bowman Primary
Prior to being hired to work as an Intervention Specialist at Bowman Primary School, Cathleen McLaughlin worked for 10 years for Wilmington City Schools. She attended Mount St. Joseph University for undergrad and graduate school - she has a Bachelor's Degree in Art Education and a Master's Degree in Multi-Cultural Special Education.
Mrs. McLaughlin lives in Lebanon with her husband, two kids, and a dog. Her husband is the Grounds Manager at Mount St. Joseph University. Keira, is 7 years old and is a second grader at Bowman. Liam is 4 year old and attends preschool at Bowman. This is Mrs. McLaughlin's second year coaching U8 Girls SAY Soccer for Lebanon.
"I love teaching and I am so excited to work at Bowman Elementary and make a difference in the community where I live," she said.
Heather Rushing, Intervention Specialist, Berry Intermediate
Heather Rushing has been hired as an Intervention Specialist at Berry Intermediate. This is her second year teaching; last year she taught in Idaho. She graduated from Boise State University with a Degree in Dual Elementary Education and Special Education. She moved to Oregonia this summer with her husband and dog. They have been having fun exploring the area and are eager to learn more about Lebanon and become a part of the community.
Angel Sanchez Navarro, Teacher, Berry Intermediate
Angel Sanchez Navarro worked in Spain for 12 years before coming to the United States. He worked as a physical education teacher in Spain, but also served as a teacher of mathematics, science, Spanish, history, and Catalan.
He came to Ohio five years ago and taught at the Ohio Spanish Immersion School in Mansfield. There he taught math, science, social studies, and Spanish to fourth and fifth graders. He received a bachelor's degree in Physical Education and General Education from the University of Valencia in Spain. He joins the staff at Berry Intermediate, teaching sixth grade in the Spanish Immersion Program.
Mr. Navarro enjoys outdoor sports - hiking, swimming, running, skiing and especially biking. He and his wife, who is from Guatemala, love to travel.
Lisa Sarver, Secretary, Lebanon High School
Lisa Sarver has been hired as a secretary at Lebanon High School. Prior to this new role, she served as a part-time substitute. Mrs. Sarver lives in Lebanon with her husband, Brian, and their three kids: Amber, Tyler, and Austin. She loves spending time with her family, friends and pets. She also enjoys volunteering, being an active church member, and watching her kids participate in their many activities. Welcome Lisa!
Cassie Smith, Teacher, Donovan Elementary
Cassie Smith has been hired as a fourth grade teacher at Donovan Elementary School. This is her fourth year teaching, all in fourth grade. She received both a Bachelors and Masters degrees from Wright State University in Middle Childhood Education.
Erin Swisher, Intervention Specialist, Berry Intermediate
This is Mrs. Swisher's first year in an Intervention Specialist role. Before becoming a teacher she worked as a Transition Coordinator for Warren County Board of Developmental Disabilities. Once a Warrior, always a Warrior - she is a proud Lebanon alumni and a second generation Lebanon City Schools educator. She received a teaching license from Miami University and is currently completing a Masters degree in Special Education. Her family of seven lives in Lebanon and they have three children who attend Lebanon Schools. She loves to cool, travel, cheer on the Buckeyes, Bobcats, Bearcats, Reds, and Bengals.
Tiffany Wells, Counselor, Donovan Elementary
Tiffany Wells has been hired as a Counselor at Donovan Elementary. She grew up in Middletown, graduated from Middletown High School, went to Miami University in Oxford, and graduated with a Bachelor of Science Degree in Special Education. She taught for several years prior to deciding to go back to school for a Masters Degree. At Xavier University she majored in Professional Counseling and School Counseling. She worked in the mental health field for several years with both young adults and older adults in a clinical setting. She then returned to the school setting as a school counselor at Elda Elementary in Ross Local Schools. She and her husband have one son - he is a swimmer so they spend most nights and weekends at a pool or swim meet. They also enjoy going to the beach and hiking in Sedona.
Alyssa Aaron, Intervention Specialist, Donovan Elementary
Traci Alderman, Custodian, Donovan Elementary
Megan Bennett, Head Custodian, new to Berry Intermediate
Daniel Bullimore, Custodian, new to Lebanon High School
Jenna Bush, Clinic Nurse, District
Kristina Caudill, Cafeteria Worker, Bowman Primary
Aedan Carter, Building Substitute, Bowman Primary
Lindsey Carter, Building Substitute, Bowman Primary
Jessica Corrill, Cafeteria Worker, Lebanon High School
Cory DeRossett, Special Education Assistant, Lebanon High School
Heather Eddy, Special Education Assistant, Bowman Primary
Payton Fisher, School Psychologist Intern, District
Karen Foltyn, Tutor, Lebanon High School
Tina Geselbracht, Secretary, Transportation
Kelsey Hammock, Cafeteria Worker, Bowman Primary
Brett Hershner, Intervention Specialist, Donovan Elementary
Sarah Hoskins, Special Education Assistant, new to Berry Intermediate
Joyce Hurtt, Custodian, new to Lebanon Junior High
Lylia Hyden, Building Substitute, new to Donovan Elementary
Joshua Johnson, Music Teacher, Donovan Elementary
Cassie Jones, Special Education Assistant, Lebanon High School
Rachel Jones, Instructional Assistant, new to Donovan Elementary
Brittainey Leuzinger, Tutor/Building Substitute, new to Lebanon Junior High
Lukas Lindberg, Building Substitute, Donovan Elementary
Carly Lingo, Special Education Assistant, new to Lebanon Junior High
Kaci Mace, Floater Aide, District
Abby McCloud, Cafeteria Worker, Lebanon High School
Doug McGowan, Study Hall Monitor, new to Lebanon Junior High
Jenny Ouhl, Building Substitute, Donovan Elementary
Angela Phillips, Tutor/Building Substitute, Bowman Primary
Christina Riddick, Special Education Assistant, new to Berry Intermediate
Ashley Roehl, Athletic Department Secretary, Lebanon High School
Beth Rutherford, teacher, new to Lebanon Junior High
Jessica Sams, Building Substitute, Berry Intermediate
Madison Saul, Intervention Specialist, Donovan Elementary
Melissa Smith, Instructional Assistant, new to Donovan Elementary
Victoria Scalia, Food Service, new to Bowman Primary
Ashley Schlereth, Clinic Nurse, Donovan Elementary
Zach Smith, Custodian, Lebanon High School
Christine Starcher, Floater Aide, District
Brittany Bryan Taylor, Building Substitute, Berry Intermediate
Alison Tendam, Intervention Specialist, Donovan Elementary
Brody Thompson, Custodian, Berry Intermediate
Regina Watts, Floater Aide, District
Amy Weaver, Building Substitute, Bowman Primary
Shelby Winters, Special Education Assistant, new to Berry Intermediate
Ben Wotawa, Special Education Assistant, Lebanon High School
Brandon Yoder, Building Substitute, new to Lebanon Junior High
Anna Zeller, Building Substitute, Berry Intermediate