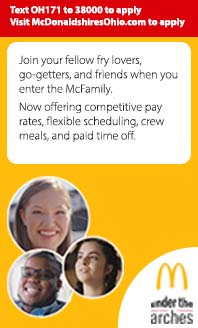 Side Menu Ends, main content for this page begins
Back to Side Menu (includes search)
Announcement: New Instruction Coaches & Special Education Instructional Facilitators
Posted on: April 11, 2022

Five teachers have been selected to fill the new roles of Instructional Coaches and Special Education Instructional Facilitators. Learn more about these positions and the teachers who will fill them:
Instructional Coaches:
An Instructional Coach is a teacher on special assignment who will provide instructional leadership, coaching, and support to teachers while promoting the use of best practice instructional strategies that enhance and individualize the teaching and learning process. Instructional Coaches will focus on individual, group, and department-based professional development learning experiences that will expand and refine the understanding of research-based models of effective instruction.
Robyn Buskirk, currently serving as a 6th grade math and science teacher at Berry Intermediate, has been selected as an Instructional Coach in the area of math and science for grades 3 to 6. She is looking forward to creating this new position in a way that helps teachers feel supported. "I love planning and working with colleagues," she said. She has mentored new teachers for years, and has enjoyed supporting them and helping them to find a love of teaching, while helping to create the best teachers for our community.
Mrs. Buskirk has taught in Lebanon for the last 22 years. She began teaching fifth grade at Donovan in 2000, moved to fourth grade in 2002, then moved to Berry in 2019. She earned a Bachelors in Education from Miami University and a Masters in Educational Leadership from Wright State University. Her husband, Robert, is currently the Superintendent of Monroe Local Schools. They have two daughters, Ryan and Ellie, and a puppy named Willie.
Lori Palmer, currently serving as a first grade teacher at Bowman Primary, has been selected as an Instructional Coach in the areas of ELA and math for grades K to 2. Mrs. Palmer earned a Bachelors of Arts degree from Mount Union College and a Masters of Arts & School Leadership with Principal Licensure from Concordia University, Chicago. She began teaching first grade at Dunlavy Elementary then joined the Bowman staff when the building opened in 2004. She taught first grade for two years, then took on a curriculum and instruction role for Louisa Wright Early Childhood Center and Bowman Primary. In 2009 she returned to the classroom to Loop in grades one and two for 12 years. In 2020 she began working on an administrative program culminating in a yearlong internship with Bowman Principal Sheri McHenry this school year.
This coaching position is an opportunity to bolster student achievement while supporting teachers to shape the most effective educational conditions for their students, she said. "I am eager to reflect with our teachers about what's going well and to look for opportunities where feedback, professional collaboration, and data can be leveraged to increase student success," she said.
Mrs. Palmer has been married to her husband Bret, for 18 years. She has been a volunteer with CarTeens, a program through Warren County 4-H aimed at educating teen drivers after their first violation to improve decision making behind the wheel. She loves to travel, read, and be a dog mom to Wrigley.
Kitty Priest, currently serving as a sixth grade ELA and social studies teacher at Berry Intermediate, has been selected as an Instructional Coach in the areas of ELA and social studies for grades 3 to 6. Ms. Priest earned a Bachelors of Education and a Masters of Education from Miami University. She has spent her 29-year teaching career in Lebanon: first starting as a fifth grade teacher in 1993, teaching fourth and fifth grade in 1994, then she moved to Donovan to teach fourth grade for 25 years before moving to Berry in 2020 to teach sixth grade.
She is very excited about the instructional coach position because she is very passionate about teaching. "I want to support other teachers so that Lebanon's students have the best school experience possible," she said. "Lebanon's teachers are second to none, and I'm very excited for the opportunity to work with and support them."
She has an adult daughter, Hannah, and a crazy cat named Hudson.
Special Education Instructional Facilitators:
A Special Education Instructional Facilitator (SEIF) is a teacher on special assignment. This position will provide coordination of the district's special education programs. They will monitor the implementation of special education programs and service delivery to students with disabilities for continuous improvement aligned with the district's goals and will manage cases and other responsibilities appropriate to the assignment.
Eryn McHale, serving as an Intervention Specialist at Berry Intermediate for the last five years, has been selected as a Special Education Instructional Facilitator. Mrs. McHale holds a Bachelor's degree in Social Work and a Master's degree in Educational Psychology. Previously, she worked for the Electronic Classroom of Tomorrow (ECOT), an online school, for 5 years. Prior to ECOT, she worked for the Lakota Local School District and for Fairfield City Schools. Before becoming an educator she worked as a caseworker for Hamilton County Children's Services.
The SEIF positions are great additions to the special education services at Lebanon, she said. "I am excited for the opportunity to strengthen and coordinate special education programming while continuing to support staff and students. Additional staff and instructional support will allow the district to better serve students and ensure high student achievement," she said.
She lives in Lebanon with her husband and their three children.
Karrie Whitsel, currently serving her 18th year teaching at Lebanon Junior High School, has been selected as a Special Education Instructional Facilitator. She has taught both seventh and eight grade during her career in Lebanon, and has served as the special education department chair at Lebanon Junior High for the last seven years. She earned a Bachelor's in Childhood Education from Maryville College in Tennessee and a Master's in Special Education from the University of Tennessee. She began her teaching career at Foothills Elementary in Maryville, Tennessee. She was the 2018 recipient of the Project Excellence Award from the Area Progress Council of Warren County, has served as a junior high cross country coach and has been a part of the mentor program at the junior high.
A large part of her professional growth in recent years has been sharing her passion about inclusive practices and co-teaching, she said. "I have had the opportunity to present my work at multiple state, regional, and national conferences with my co-teacher, Amy Wnek, on the co-teaching model and middle grade language arts," she said.
She is married to Jacob and they have two sons, Connor and Jackson, who attend Lebanon schools.
These teachers will finish the school year in their current roles and will transition to their new positions this summer. Their offices will be located in the Central Office.