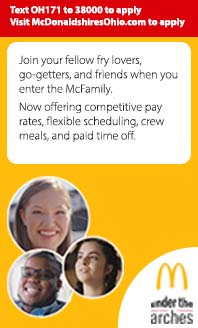 Side Menu Ends, main content for this page begins
Back to Side Menu (includes search)
Warrior Welcome: New Staff Hired

Join us as we give a warm Warrior Welcome to this group of staff - a custodian, a school counselor, six new teachers, and a Special Education Instructional Facilitator!
Daniel Bullimore is working as a custodian at Berry Intermediate. Welcome Daniel!

Join us in welcoming Nadine Webb as a new school counselor for Bowman Primary! Ms. Webb is finishing up her second year as a professional school counselor in Tennessee. She is eager to return to Ohio this summer and begin working at Bowman in August.

Ms. Webb graduated from Kings High School, earned a Bachelor of Arts in Psychology degree from Ohio State University and a Master's of Education degree in School Counseling from the University of Cincinnati. While attending college she interned at Sycamore High School and West Clermont Middle School. She has worked in Nashville, Tenn. for two years - one year at a middle school as a fifth and sixth grade counselor and one year at an elementary school as a kindergarten through second grade counselor.

"Our students are experiencing so many different socioemotional needs that can make it hard for them to be successful in and out of the classroom. I hope to give them the tools to become resilient and I hope to create a safe space for all students to show up and be heard," she said.

She lives in Madisonville with her husband Bradley and their two dogs, Achilles and Lucky.

Welcome Nadine!

Join us in welcoming Carly Lawrence as an intervention specialist at Bowman! She will be working with our littlest Warriors in preschool.

Carly earned a Bachelor of Science degree in Elementary Education from Eastern Kentucky University. She was a student teacher and served as a substitute teacher in Cold Springs, Kentucky. This will be her first year teaching.

Lebanon's strong sense of community is what led Carly here. "After meeting with staff, I could tell how much they truly cared about their students and family," she said.

She lives in Loveland with her family and three pets. In her spare time she enjoys volunteering, hiking, and traveling. She is looking forward to joining the Warrior team and connecting with staff, students, and families.

Welcome Carly!

Join us in welcoming Julia Sowers, a new sixth grade math and science teacher at Berry Intermediate!

Julia earned a Bachelor's degree in Middle Childhood Education from Wilmington College. She completed her student teaching at Berry this school year. She has prior experience teaching at Clinton-Massie Elementary School as well as substituting at Berry. She grew up just outside of Lebanon and graduated from Clinton-Massie High School.

Serving as a student teacher and substitute at Berry allowed her to build relationships with staff and students there. "I love the atmosphere and support Berry has always given me," she said. "Everybody is kind and willing to help regardless of any situation."

In her downtime she enjoys spending time with her family, spending time outside together going hiking and canoeing.

Welcome Julia!

Join us in welcoming Samantha Stewart, a new first grade teacher at Bowman Primary!

Samantha earned a Bachelor of Science degree in Elementary Education from Wright State University. This will be her first teaching position, but she is already a familiar face at Bowman: she completed her student teaching there and served as building sub and a long-term intervention specialist substitute this school year.

"I love seeing my students grow and watching them discover new things, new passions, and making new memories. My favorite part about education is the students' growth from the beginning of the year to the end of the year, and watching this unfold. It has been my dream to become a teacher, and I cannot wait to get started," she said.

She currently lives in Lebanon and her daughter attends Bowman Primary.

Welcome Samantha!

Join us in welcoming Betsy Weissman, school psychologist! Betsy is coming to Lebanon after serving as a school psychologist with Clermont County Educational Service Center for the last 10 years. She has spent all 10 years of her career in the area of early childhood education and has developed a passion for consulting on literacy interventions and behavior interventions, she said.

Betsy earned a Bachelor of Arts degree in Psychology from the University of Toledo and a Masters in Education degree in School Psychology from the University of Cincinnati. Growing up, she said, she was fascinated by how people learned information differently. "I always thought I would become a special education teacher," she said. "Then I took a psychology class in high school and fell in love with the field. Being a school psychologist has allowed me to combine both of those dreams."

She is married and has two daughters, ages 7 and 4. Her family enjoys going to the Cincinnati Nature Center, swimming, and cheering on the Cincinnati Reds.

Welcome Betsy!

Join us in welcoming Victor Balaguer Catala, fifth grade teacher at Berry Intermediate in the Spanish Immersion program! Victor was born in Beneguacil (Valencia) and lives in Barcelona. He has a Bachelor's degree in Elementary Education and a Master's degree in Neuroeducation and Physical Education.

He currently teaches fifth grade and serves as an English specialist in Barcelona. He has also taught Spanish as a foreign language, Catalan as a foreign language, math, science, history, integrated computer technology, and geography. He taught in an early childhood Montessori school in Ireland and was an after-school Spanish language tutor prior to becoming a teacher. He has traveled extensively in Asia and Europe.

Victor loves pets and has a dog named Gandhy, an Ibizan hound. He enjoys reading, mountain activities, hiking, soccer, and climbing.

Welcome Victor!

Join us in welcoming Emily Myers, new high school science teacher! Emily was born and raised in Lebanon and graduated from Lebanon High School in 2016. It was always a dream of hers to come back and teach in Lebanon. She said she is thrilled to have the opportunity to do so.

She recently earned a Bachelor's of Science degree in secondary education from the University of Cincinnati, with a focus in chemistry and integrated science. She was a student teacher at Northwest High School and currently is employed as a science teacher at West Clermont High School.

"I had such incredible teachers during my time in Lebanon Schools. I want to share my love of science while also giving students a positive learning experience like my own," she said.

Her family lives in Lebanon and her youngest two siblings are students in the district.

Welcome Emily!

Please join us in congratulating Anna Southard - she will transition to working as a new Special Education Instructional Facilitator next school year. A Special Education Instructional Facilitator (SEIF) is a teacher on special assignment. These positions will provide coordination of the district's special education programs. They will monitor the implementation of special education programs and service delivery to students with disabilities for continuous improvement aligned with the district's goals and will manage cases and other responsibilities appropriate to the assignment. Eryn McHale and Karrie Whitsel are the other two SEIFs. Their offices will be located in the Central Office.

She earned a Bachelor of Arts degree in English from the University of Kentucky and a Masters in Speech-Language Pathology degree from The University of Cincinnati. Anna has been working at Lebanon Junior High School the last three years as a contracted speech therapist from the Warren County Educational Service Center. She has a total of 11 years of experience serving students with communication needs in preschool, elementary, intermediate, middle, and high school settings. During her career she has been able to make connections with fantastic teachers, intervention specialists, therapists, school psychologists, administrators and mental health counselors across five southwest Ohio school districts, she said. "I am happiest working with a team to support a student with learning differences. Special education is my passion," she said.

Her mother was a high school English teacher and eventually became an administrator, retiring from the role of Director of Instruction at Blanchester Local Schools in 2010. "For years I watched her former students stop to say hello. They would tell her how much her class meant to them or express their gratitude for her support. I wanted to be just like her - to make an impact on the lives of young people. As a Speech Language Pathologist, I have aspired to give my students a voice, and impress that their words are important."

Anna lives in Lebanon with her husband, Joseph, their three young children Evelyn, Phillip, and Helen, plus two basset hounds, Michael and Cletus.

Congratulations on your new role, Anna!