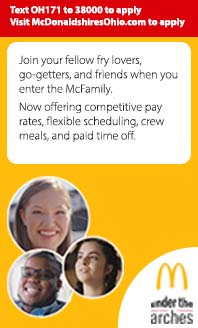 Student of the Month: Owen Mockabee

Owen is a great reminder that there is still good in the world. He is always positive, and makes sure the focus of his success is on those around him. He is involved in multiple sports and activities, and actively participates in community service. Owen is a fine young man, and a wonderful representative of Lebanon High School!

- Owen spreads kindness and positivity to everyone, every day!

Staff of the Month: Bethanie Lamb

- On top of being an excellent educator, coach, colleague and friend, she is responsible for so many behind the scenes activities for the kids like powder puff, student council, homecoming, and she is a class advisor- just to name a few. She does all of this and makes it look easy, I don't know how she does it all! Bethanie also takes the time to get to know each of her students and makes each and every one of them feel special and cared for. She has patience and grace for students when others wouldn't. On top of all of that, she is an excellent mentor and someone who I am constantly learning from. I am very blessed to be her co-teacher.

-Bethanie shows her character each and every day in her interactions with students and staff here at LHS. Specifically, this year, she has shown a lot of grace and understanding with all of our students- even those whose shell is a little harder to crack than most. She offers solutions and grace rather than punishment. I admire her kindness to all of her students and her willingness to meet them where they are. I can tell by the way the students interact with her that they trust her and know that she cares.

-Without Bethanie's commitment to the staff and students here at LHS, we would be missing out on so many great things. As I stated before, on top of being an amazing teacher, Bethanie has so much more on her plate and she handles it all with ease. She never misses a beat teaching, she runs so many important events for the students here at LHS, and most of all, she truly cares for the students. I think her resume speaks for itself when it comes to making LHS a great school, but I feel that she should be recognized for all of her hard work.

Thanks for all you do for our students & staff, Bethanie!
See Less
Disposable E-Cigarette Use among U.S. Youth
An Emerging Public Health Challenge
The New England Journal of Medicine released an article this week showing the National health challenge we face in the School District. Nearly 20 percent of High School students and 5 percent of Junior High students are currently using e-cigarettes. Please take a moment to read about it here
CCP & AP Information Videos
As we continue to prepare and plan for the 2021-2022 school year, we would normally host multiple informational meetings for parents and students during the upcoming month. This year, in lieu of the large in-person meetings, we will be providing information to families through a series of videos.
Below you will see 2 video links, one for College Credit Plus (CCP) and the other for Advanced Placement (AP). If your son or daughter has any interest in pursuing these educational options, please click the link to view the information.
If you have any questions about either one of these, please reach out to your child's counselor at 934-5106.