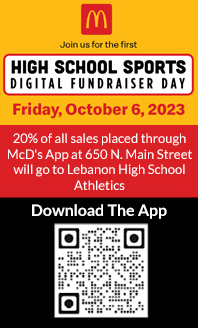 Bus Safety Rules
Department Information
Each day more than 6,000 public and non-public students in Lebanon City School District are transported to one of the 25 buildings we service. Our buses travel approximately 5500 miles per day, covering more than 1 million miles a school year. Your student's safety is our top priority.
As parents, you are an important part of the total safety awareness for students who travel to and from school on our buses. Students benefit from learning to become safe pedestrians and passengers.
Help us maintain safe bus stop procedures:
Go with your students to the bus stop daily.

Ask your children to walk in groups, if possible.

Regardless of weather conditions, students must be standing at the designated stop 5 minutes prior to the scheduled arrival time.

If anything is dropped during loading or unloading the bus, children should tell the bus driver and never attempt to retrieve the item themselves.

When your student has to cross the street to get on or off the bus, the driver will signal when it is safe to cross in front of the bus. Your student is taught the first day of school to watch for the driver to lower his or her hand; this is the "safe signal" to know it is safe to cross in front of the bus. NEVER ADVISE YOUR CHILD TO RUN ACROSS THE STREET. YOUR CHILD MUST ALWAYS WATCH THE DRIVER FOR THE SAFE SIGNAL TO CROSS.
General Safety Rules
Observe same conduct as in the classroom.
Be courteous, use no profane language.
Do not eat or drink on the bus.
Keep the bus clean.
Cooperate with the driver.
Do not smoke / Vape
Do not be destructive.
Stay in your seat.
Keep head, hands and feet inside the bus.
Bus driver is authorized to assign seats.

Safety spot (designated place of safety)
Each pupil shall be assigned a residence side designated place of safety. Drivers must account for each pupil at the designated place of safety before leaving. Pupils are not to proceed to their residence until the school bus has departed.
(Ohio Revised Code 3301-83-13 B-5)

No eating or drinking on the bus
Pupils must refrain from eating and drinking on the school bus except as required for medical reasons. (Doctors note required to explain medical need)
(Ohio Revised Code 3301-83-08 C-8)

Pupils need to be at the bus stop
Pupils shall arrive at the bus stop before bus is scheduled to arrive.
(Ohio Revised Code 3301-83-08 C-1)

The Ohio Revised Codes listed above are laws that bus drivers are required to follow. The pupils who ride the bus are also required to follow these laws.