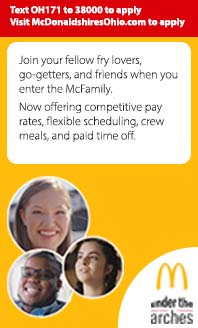 Side Menu Ends, main content for this page begins
Back to Side Menu (includes search)
Email Update- October 2, 2017
Posted on: October 2, 2017
Parents-
Below is some important information from the junior high. Have a great week!
Mr. Dalton
Warrior Walk Help Needed- The PTO is looking for volunteers to help with the Warrior Walk on Friday, October 13th. Please contact the PTO by email if you can help. (ljhs.pto.45036@gmail.com)
Career Day Help Needed-

We are looking for volunteers to speak or help at Career Day on the morning of Friday, October 13th. Please contact Ms. Bacher (bacher.jessica@lebanonschools.org) to speak or help.
Parent/Student/Teacher Progress Nights-
Thursday, October 26th from 3:30pm to 7pm
Progress Update Nights for LJHS Students, Parents, and Teachers are held to create an opportunity for parents to join their student and teacher(s) to discuss progress in the classroom up to this point in the school year. You can sign up to conference with one teacher or all of your child's teachers. A link to sign up will be published on this website once it is available.
Extended Day Survey

- Please visit this website or return the paper copy of the Survey sent home with students on Wednesday of last week to give your feedback on a possible extended day program for Lebanon City School District families.
REDO Day-

Many of our 8th grade students participated in REDO Day on Sept. 21 and 22. This program is
for students in high school, junior high, and elementary school and is designed to help kids look beyond stereotypes, build respect, and put an end to bullying. We encourage parents of 8th grade students to talk to their students about REDO Day. We also encourge all parents to contact an adult (teacher, counselor, or administrator) at LJHS if your student indicates they are being stereotyped, disrespected, or harassed at school. We investigate and respond all reported incidents.
Attendance Procedures

- If your student is going to be late or absent, please take time to call the office or send a note with your student. If your student visits the doctor or dentist, please bring a note from the doctor. If you are planning a vacation, please send a note prior to the absence so we can pre-approve the absence and notify teachers prior to your departure.