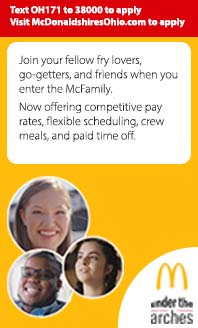 Side Menu Begins
Side Menu Ends, main content for this page begins
Peachjar Flyer Approval Guidelines
We want to thank you for your interest in communicating with our community through our Peachjar portal. Please review all of the following guidelines to learn how you can submit your flyer for our district's distribution consideration. No outside organization, staff member, or student can share information on behalf of an outside organization with permission and prior review of the Superintendent.
Beginning February 1, 2022, the Lebanon City School District will utilize Peachjar, an electronic flyer communication tool. Parents, students, and community members will be able to view district-approved digital flyers by clicking the Peachjar buttons and links located on this page and also on our district and school homepages. Parents and guardians will also receive a direct e-mail regularly when new flyers are available.
Our new Peachjar will be used exclusively for the distribution of school building and/or district-approved flyers. We will no longer be sending paper flyers home with students from any school building. Peachjar is also a 'green' initiative that will save our district funds by eliminating any costs related to our previous distribution methods. Our community organizations, and other entities utilizing this communication tool, will also reduce costs associated with the distribution of their information as well.
The Lebanon City School District welcomes the opportunity for non-profit organizations and local businesses to provide flyers for distribution to students, providing the materials are age-appropriate for the students that attend the school and are of the following types:
Activities or events related to the regular academic programs of the schools;

Activities or events promoting the intellectual development of children (e.g. plays, concerts, lectures, crafts);

Activities or events promoting the physical development of children (e.g. dance, exercise programs, sports programs);

Activities or events promoting the personal and social development of children (e.g. dancing, scouting);

Discounted activities or events for families (movies nights, rewards programs); and/or

Coaches employed by the Lebanon City School District may distribute fliers for any camps they hold that are directly related to their coaching assignment.
To ensure the appropriateness of the materials, the District may request the materials be edited.
All Flyers SHOULD:
Adhere to our flyer guidelines, as specified above
Serve the District's stakeholders consisting of students, parents, guardians, and the community
Be age-appropriate for K-12 students
Not contain sales-driven advertising language that simply promotes an individual, agency, and/or organization
Contain the name and contact information of the sponsoring entity
Be in PDF format
Flyers should NOT:
Solicit funds with the exception of those listed in the district's policy
Promote a particular political candidate, party, or ballot
Position the District on a side of a controversial issue
School-Sponsored Fliers
Links to school-sponsored fliers that may be of interest to Lebanon City Schools' families will be posted on our social media channels. These events or activities are sponsored by our district or school-related non-profit organizations like our PTOs and Booster Clubs.
Non-School Sponsored Fliers
Please Note: Flyers from outside organizations are not sponsored by, affiliated with, nor endorsed by the Lebanon City School District or its schools.
Distribution of community fliers that may be of interest to Lebanon Local families will be processed through Peachjar. Our school district does not endorse or promote these events, activities, or groups, but wishes to make the information available as a service to our families.
If the event or activity is religious in nature, the flyer may not contain a proselytizing message and the flyer/notice does not overtly advocate or entice support for or disparage a specific religious organization.
Free activities or non-profit organizations may be required to provide its 501(C)(3) documentation.
Peachjar does charge a fee for this service for those who are for-profit and charging ant fees related to their promotion. We will no longer be providing any paper flyers to the schools, effective February 1, 2022. Non school-sponsored fliers will not be posted on our district website or social media pages.
You may register with Peachjar as a 'Program Provider' and upload your flyers for distribution to your desired school(s). In your Peachjar account, you will be able to upload your flier and add call-to-action buttons such as 'Call" and 'Sign Up Now' for parents to interact directly with your flyer. In your account, you will also have the ability to view flyer metrics to monitor your flyer campaigns.
After your flyer has been submitted through Peachjar, it will be routed automatically to the school district for approval and then e-mailed as a visually engaging, full-color image to all parents who have their e-mail address on file with the schools. All flyers will be approved weekly so parents will only receive one notification per week regarding new flyers.
Please contact our Communications Department for more information at (513) 934-5771 ext. 5880 or e-mail Mrs. Planicka.