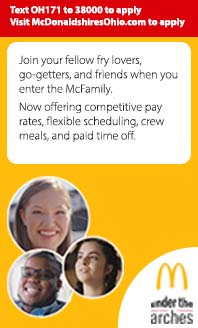 Side Menu Ends, main content for this page begins
Back to Side Menu (includes search)
Scott Butler named new Director of Business, Casey Wood named Interim LHS Principal
Posted on: January 3, 2022
Scott Butler has been named Lebanon City Schools' Director of Business. Mr. Butler has worked for Lebanon for 20 years, serving as Lebanon High School Principal for 11 years and Assistant Principal for nine years. He also served as the District's Energy Director for three years.
Mr. Butler will transition to the Central Office and join the District Administrative team in this new role February 1, 2022. Lebanon City Schools recently reinstated the Director of Business position - the position was last held by Cary Furniss in 2005 before he became the District's Treasurer. The goal of the position is to improve the operational efficiency of the district, while allowing building administrators and other Central Office staff to focus their attention on the instructional needs of the district.
In the role as Director of Business, Mr. Butler will work closely with the Treasurer and Superintendent to oversee the non-instructional operations of the district by building relationships with staff, community and business leaders, and contractors/vendors. He will collaborate with the Human Resources Director and the Supervisors of Food Service, Maintenance, and Transportation for the supervision and direction of these departments. The Business Department will be responsible for creating and overseeing the budget and implementation of maintenance and replacement plans for district facilities and bus fleet.
"Scott has built amazing relationships within the district and the community as the principal of Lebanon High School. Those relationships will be beneficial as he leads a department that seeks to meet the physical needs of our district while further developing and leveraging our community partnerships. Scott's understanding of the current needs of the district and his vision for this position made him an excellent choice," said Superintendent Isaac Seevers.
Mr. Butler earned his undergraduate and graduate degrees from Miami University. He began his career in education as a math teacher in Fairfield City Schools. He taught for eight years. He is a member of Lebanon Presbyterian Church and has served on the Lebanon Chamber of Commerce Board of Directors since 2016. He and his wife Tracy, a teacher in the Kings Local School District, are the proud parents of three Warriors: Eliza is a 2021 graduate and is currently attending Miami University, Ian is a sophomore at LHS, and Isaac is a 7th grader at Lebanon Junior High, plus their rescue dog Trooper.
"While I will miss the daily interactions with the wonderful staff and students of Lebanon High School, I am really excited for the opportunity to serve Lebanon City Schools as the Director of Business," said Mr. Butler.
Casey Wood, current Assistant Principal at Lebanon High School, has been appointed as the Interim Principal for Lebanon High School to replace Mr. Butler when he assumes his new role February 1.
Mr. Wood earned his Bachelor's Degree from Cedarville University and two Masters Degrees from the University of Cincinnati. He is in his seventh year as an Assistant Principal at Lebanon High School. Prior to that, he served as Principal of Washington High School in Washington Court House for four years and Assistant Principal there for 11 years. He began his career in education at Southeastern High School in South Charleston, Ohio, where he was a social studies teacher and department chair for seven years. He has also taught two different courses as an adjunct instructor at Cedarville University. Casey's wife, Dr. Michelle Wood, is a Professor of English at Cedarville University. The Woods live in Cedarville and have two children: Adam is a junior at Eastern Kentucky University and daughter Claire is a junior at Cedarville High School.
Mr. Wood said, "The strength of the Lebanon City School district has always been the combination of high-quality and dedicated teachers, hard-working and engaged students, and involved and supportive parents. I look forward to serving in this interim capacity over these next few months to keep our students progressing in a positive direction."
"Casey's previous experience as a High School Principal will allow him to seamlessly transition into the Principal position this winter. We are fortunate to have Mr. Wood and Assistant Principal Mr. Ferrero lead our staff to finish the school year. They have built relationships with staff and students and those will be essential as we replace Mr. Butler's leadership at LHS midyear," said Superintendent Seevers.
Lebanon City Schools plans to fill Mr. Wood's Assistant Principal position with an Interim Assistant Principal for the remainder of this school year. The interim position will be posted this week with the goal of having someone in place prior to February 1. The district will conduct a search for a long term High School Principal this spring following a period of input from stakeholders.