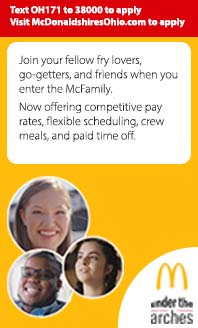 Side Menu Ends, main content for this page begins
Back to Side Menu (includes search)
Warrior Welcome to New Staff
Posted on: August 15, 2023
Join us as we give a warm Warrior Welcome to the following staff members who have been hired for the new school year!
We have hired more than two dozen qualified teachers for the new year and many other staff to fill other important roles.
---
Jen Hines, Teacher, Bowman Primary School
Jen Hines has nine years of teaching experience. She joins Bowman Primary's staff this year as a second grade teacher. Mrs. Hines served as a long term substitute teacher in the building last year. She lives in Waynesville with her husband and three daughters, Paige, Alexis, and Megan. Their family spends most evenings and weekends on the soccer field or at gymnastics.
Angel Sanchez Navarro, Teacher, Berry Intermediate
Angel Sanchez Navarro worked in Spain for 12 years before coming to the United States. He worked as a physical education teacher in Spain, but also served as a teacher of mathematics, science, Spanish, history, and Catalan.
He came to Ohio five years ago and taught at the Ohio Spanish Immersion School in Mansfield. There he taught math, science, social studies, and Spanish to fourth and fifth graders. He received a bachelor's degree in Physical Education and General Education from the University of Valencia in Spain. He joins the staff at Berry Intermediate, teaching sixth grade in the Spanish Immersion Program.
Mr. Navarro enjoys outdoor sports - hiking, swimming, running, skiing and especially biking. He and his wife, who is from Guatemala, love to travel.
Brenden Malloy, Teacher, Lebanon High School
Brenden Malloy has been hired as a science teacher at Lebanon High School. He is a graduate of Mason High School and attended Ohio University, where he received a bachelors degree in Adolescent Young Adult integrated science education. In my free time I enjoy fishing and anything outdoors. This is his first teaching position.
Lisa Sarver, Secretary, Lebanon High School
Lisa Sarver has been hired as a secretary at Lebanon High School. Prior to this new role, she served as a part-time substitute. Mrs. Sarver lives in Lebanon with her husband, Brian, and their three kids: Amber, Tyler, and Austin. She loves spending time with her family, friends and pets. She also enjoys volunteering, being an active church member, and watching her kids participate in their many activities. Welcome Lisa!