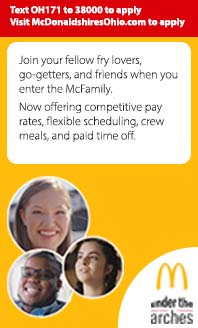 Lebanon High School Clubs & Activities
Lebanon High School offers a wide variety of extracurricular clubs and activities for student involvement. The list below offers a brief description of each, please contact an advisor for more details.
Academic Quiz Team - A winter season activity. Competitions against other GWOC schools are held. Competition topics cover history, government, geography, literature, science, mathematics and current events. Please contact Ms. Harris for more information, harris.terri@lebanonschools.org, or on Twitter @Harris85Terri.
AFJROTC - The Air Force Junior ROTC program at Lebanon High School is a 4 year program for high school students and compromises of a classroom based curriculum, in addition to extracurricular activities. Each class contains three components: Aerospace Science, Leadership Education and Wellness Education. There is NO military commitment for enrolling in AFJROTC. Please contact Rayn Eads, eads.ryan@lebanonschools.org or Dave Alvarez, alvarez.david@lebanonschools.org or visit LHS AFJROTC Site for more information,.
AFJROTC Drill Team - The Air Force Junior ROTC Drill Team at Lebanon High School is an optional activity in the AFJROTC program. You must be enrolled in an AFJROTC class to be eligible to participate on the drill team. Practices are before school in the mornings and the competition season is August-April. Please contact Ryan Eads for more information,eads.ryan@lebanonschools.org.
American Sign Language Club - The American Sign Language Club provides opportunities for students to learn about sign language, to improve their sign language skills, to learn about and experience deaf culture and to have fun. We are here to provide opportunities for the hearing and deaf communities to communicate and socialize together. Students of any level and ability are welcome. Please contact Ms. Robinson for more information, robinson.eve@lebanonschools.org.
Debate Society - LHS Debate Society discusses current events, controversial opinions, and different political stances. There are weekly meetings where we play different games and learn how to have a proper debate. Please contact richardson.steve@lebanonhighschool.org if any questions arise.
Educators Rising - Educators Rising is open to any 9th-12th grade student who may be interested in going into the field of education. It is also for students interested in tutoring younger students throughout the year. Meetings are the second Thursday of the month. Please contact Mrs. Duning for more information, duning.coni@lebanonschools.org.
Fellowship of Christian Athletes - FCA meets every before school one day per week. Through messages shared by student leaders and guest speakers, this is a great opportunity for students to grow in their faith and impact their community. For more information please contact Mr. Back, back.frank@lebanonschools.org.
Film Club - This is a club for anyone who likes movies and is interested in learning how to make their own. We learn about the art of film-making and take on a new project every month. For more information please contact Mr. Kuhn, kuhn.will@lebanonschools.org.
French Club - The French Club hosts meetings and a variety of activities to celebrate the cultural diversity of France and other francophone countries. Meetings are twice a month and field trips are sometimes held. Please contact Mrs. Marsh for more information, marsh.jennifer@lebanonschools.org and on Instagram lhs_french_club.
Future Business Leaders of America - Lebanon FBLA has a strong tradition of preparing students for "real world" professional experiences. Members have the opportunity to compete in the state leadership conference in March. Meetings are the first and third Fridays of the month. For more information, please contact Mr. Back, back.frank@lebanonschools.org and on Twitter @FBLA_LebanonHS
Global Media - This is a course, open to upper class students, with auditions in February. Students produce a daily news show along with skits and creative original videos and make TeamTV, a monthly show you'll see in TEAM. Students can act, write, or provide technical skills in our state-of-the-art studio environment. Please see Mr. Kuhn for more information, kuhn.william@lebanonschools.org and find us on Twitter @drakeroadpro and online at https://vimeo.com/drakeroadproductions.
Gender-Sexuality Alliance - a safe environment for students to express their gender and/or sexuality and learn about LGBT+ matters. Allies welcome. Please see Mrs. Hogan for more information, hogan.paula@lebanonschools.org.
Junior Council of World Affairs - JCOWA is a club that debates and and engages in getting to better understand the world around us. Topics range from economics, politics, religion, culture, global issues, conflict, war to ending world hunger. For more information please contact Mr. McCarty, mccarty.daniel@lebanonschools.org.
Key Club - The LHS Key Club meets on the first and third Tuesday of the month. We are a community service organization. A few of our activities include preparing snacks at the Ronald McDonald House, preparing meals with Hands Against Hunger and collecting thousands of shoes to support micro-businesses in Haiti. Please see Mrs. Hencey (Osborne) for more information, osborne.alissa@lebanonschools.org.
LHS Art and Portfolio Club - The LHS Art and Portfolio Club is an organization dedicated to students who are interested in the visual arts. Students will use their artistic talent to create work for themselves as well as community service-based projects. In addition, Juniors and Seniors who are interested in pursuing the fine arts after high school will have the opportunity to assemble an admissions portfolio with guidance of the instructor. Please see Mr. Kuntz for more information, kuntz.deron@lebanonschools.org.
National Honor Society - Information Link & NHS Induction Information Link Meetings are the first and third Thursday of each month. Please email Mr. Richardson or Mrs. Hahn for more information at richardson.steven@lebanonschools.org or hahn.rachel@lebanonschools.org.
Outdoor Adventure Club - The OAC provides and promotes student interest in outdoor activities. Activities range from camp outs to zip lining. The club meets twice a month to plan activities. Please see Mrs. Zanola for more information, zanola.meagan@lebanonschools.org.
Recording Club - Our 18-channel all digital recording studio is freely available to use for all students at LHS. We record rock bands, rappers, singer/songwriters and everything in between. At the end of the year we release a full length album of the year's best recordings. For more information, please see Mr. Kuhn, kuhn.william@lebanonschools.org and find us on Twitter @drakeroadpro.
Relay for Life - Lebanon High School has its own RFL team that raises funds locally through school and community activities and participates in the American Cancer Society Relay for Life event. Mrs. Duning can be contacted for more information, duning.coni@lebanonschools.org.
Ski Club - This is a seasonal activity. We go skiing at Perfect North on Wednesday evenings during the ski season. There is a club sponsored trip to 7 Springs Ski Resort in Champion, PA over Presidents Day weekend. For more information, contact Mr. McCarty, mccarty.daniel@lebanonschools.org.
Student Council - Student Council is an organization that consists of 10 elected representatives rom each grade level. These representatives meet weekly throughout the school year. They help with the planning of Homecoming activities, community service events, fundraisers for each class, Prom and graduation. Please see Mrs. Lamb for more information, lamb.bethanie@lebanonschools.org.
Ultimate Frisbee - Ultimate Frisbee is a co-ed club sport offered at Lebanon high school and junior high students. During the fall season the team practices once a week and play in one weekend tournament. During the spring season the team practices two times per week, runs twice a week and has games each Sunday afternoon. Contact Mr. Earley for more information, earley.ned@lebanonschools.org.
WarZone - The WarZone is a student-led group designed to promote Warrior pride and spirit throughout the school. There are meetings throughout the year to determine spirited themes, and discuss which events will be attended. Please find us on Twitter @WarZoneLHS or contactt Keith Pantling and Caelan King for more information, pantling.keith@lebanonschools.org or king.caelan@lebanonschools.org
Yearbook - Yearbook is a year-long art class offered at LHS. There are also options to come to meetings outside of school hours to learn more about photography and online design. The yearbook group works with teachers, coaches and administration to represent many of the offerings, events and success within Lebanon High School programs. Follow us on Twitter at @lebanonyearbook or Instagram @lebanonyearbook or email Mrs. Bierkan at bierkan.meggie@lebanonschools.org.
The Progressive Alliance - We meet bi-weekly to discuss politics. All political ideologies welcome! For more information contact Mr. Richardson, richardson.steven@lebanonschools.org.